Who We Are
Helping create delicious and healthy food products through technologies derived from yeast production
Oriental Yeast is a business-to-business manufacturer with a long-established history of technological innovations originally derived from baker's yeast production. Founded in 1929 as Japan's first baker's yeast producer, Oriental Yeast has contributed to popularizing and raising the quality of bread in Japan for over 90 years. In its food business, the company develops a variety of food ingredients in addition to yeast while focusing on yeast-related biotechnology applications. It also initiates leading-edge bioscience projects and provides support to numerous companies and research organizations involved in the life sciences.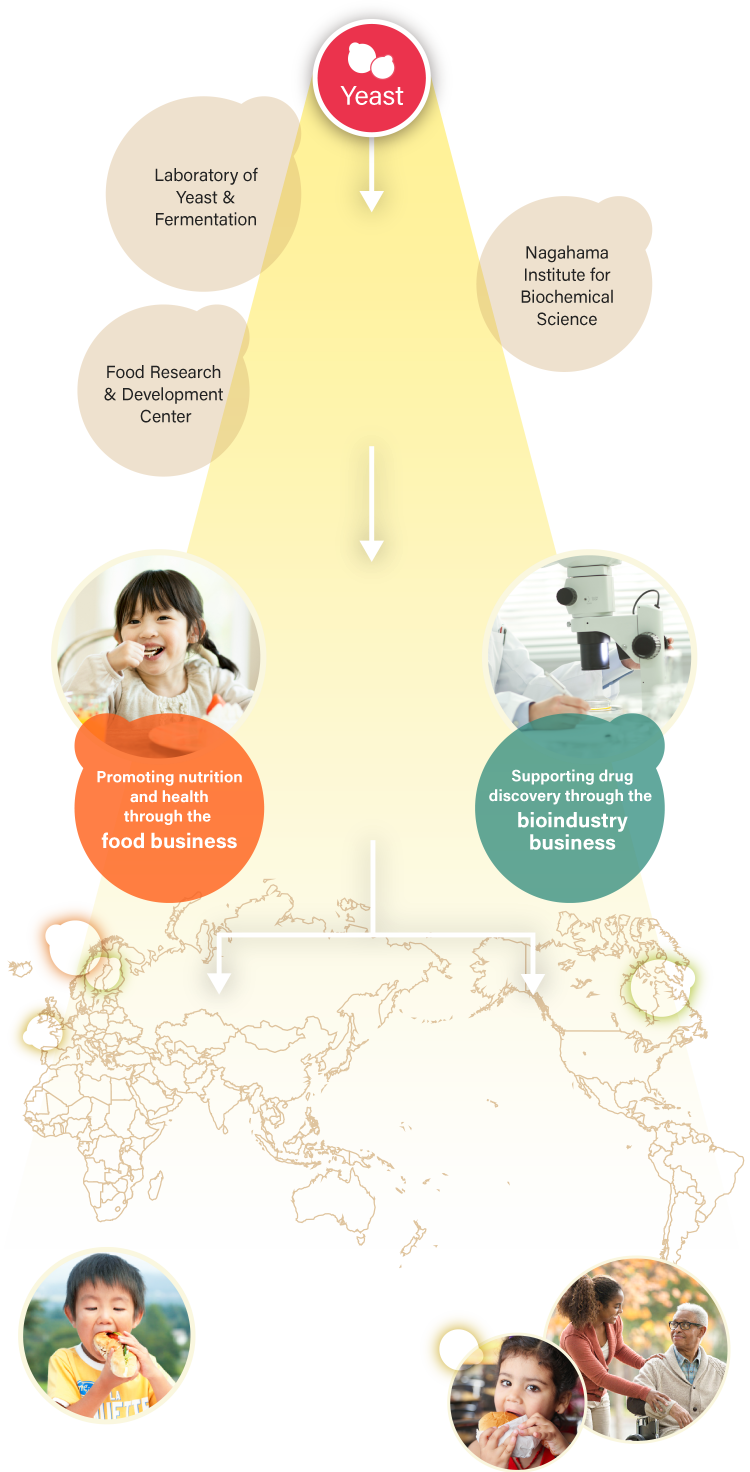 01
Advanced technologies
derived from yeast production
Oriental Yeast has developed advanced culturing technology over many years of researching and developing yeast, and has refined its food processing technology while working closely with customers in the bread and confectionary industries. Moreover, the company has built on its basic research on yeast to develop its own biotechnology. Drawing from these three core technologies, Oriental Yeast has been actively helping customers enhance their R&D and product development performance. Its R&D network is led by three main facilities: the Laboratory of Yeast and Fermentation, which boasts a stock of over 30,000 strains of yeast; the Food Research & Development Center, a facility that conducts research and development on food products and publishes information related to food; and the Nagahama Institute for Biochemical Science, which handles a wide range of projects spanning from basic research to product development.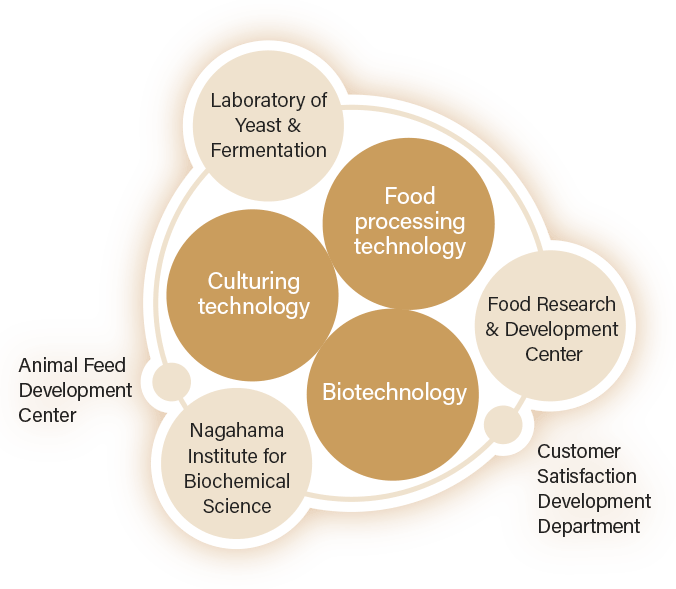 02
Benefitting people's lives and health through
two businesses
Food business
Starting from its own originally produced domestic yeast, Oriental Yeast focuses its efforts on utilizing yeast in food products. While always considering bread consumption, the company works closely with food manufacturers to develop food products that suit the tastes of consumers and meet their needs. Drawing from its long history in Japan's bread market, the company's food business now develops and supplies high-quality food ingredients such as baker's yeast, bakery fillings, and mayonnaise to a wide range of customers that manufacture bread, confectionaries, and delicatessen products, as well as restaurant-use products and ready-to-eat meals.
Bioindustry business
Oriental Yeast has accumulated its own biotechnologies derived from the cellular components of yeast, and is applying them in cutting-edge projects across various fields ranging from cellular- to organism-level applications. It manufactures research-use reagents and raw materials for all kinds of clinical experiments while offering preclinical testing and other services. Having earned a solid reputation for dependably supplying these products and services, which require an extremely high level of precision and accuracy, the company has secured a substantial share of the global market for raw materials used in diagnostic drugs. In recent years, the bioindustry business has been responding to research and drug discovery needs in the life sciences.

03
Domestic expansion
into diverse industries related to food and health
Oriental Yeast strives to contribute to better food and health through its partnerships with food product manufacturers. Across Japan, it has been supporting a broad range of customers from diverse industries, including the bread, confectionary, food products, biotechnology, and pharmaceutical industries.

04
Global expansion
leveraging the collective strengths of the Nisshin Seifun Group
In collaboration with group companies in the United States, Europe, and Asia, Oriental Yeast has been leveraging the Nisshin Seifun Group's network to expand its business globally. It has also established a new yeast-related products business in India in recent years.

Research & Development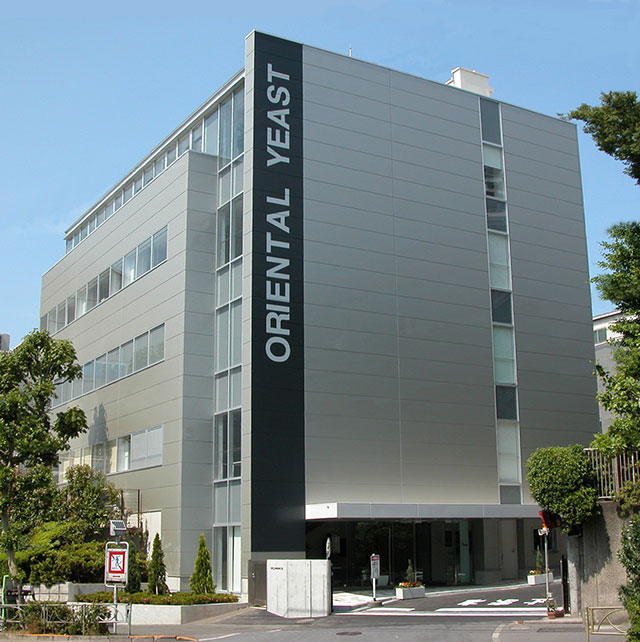 Our research and development framework centers on our two research centers, the Laboratory of Yeast and Fermentation and the Nagahama Institute for Biochemical Science, and Food Research & Development Center, a multipurpose facility combining R&D and information dissemination functions.
The Laboratory of Yeast and Fermentation has more than 13,000 strains of yeast as stock cultures and focuses on high-performing, high-functioning yeasts, fermented products, and applications for these. The Nagahama Institute for Biochemical Science encompasses comprehensive, advanced biotechnology research facilities and handles everything from basic life sciences research to product commercialization.
Going forward we will focus on developing products, developing applications and cultivating new businesses that fuse the technologies possessed by these research centers.
Manufacturing & Quality Assurance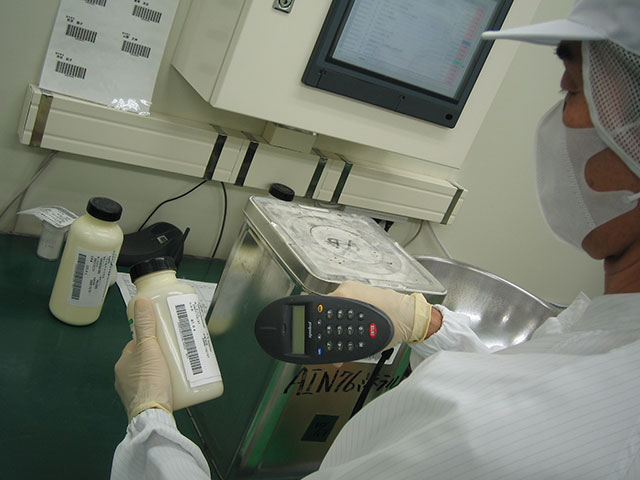 Our products are manufactured under uncompromising quality controls, based on our many years of experience.
Oriental Yeast Company observes corporate social responsibility, therefore we will develop and provide reliable, safe and high-quality products and services, and to that end our action guidelines says that we enhance quality management systems that give priority to the consumer, targeted at cultivating optimum levels of consumer satisfaction.
Our philosophy regarding quality assurance is that quality and safety come before all else, and to realize true quality assurance we strictly control every stage from planning and development to production, marketing and distribution.
To oversee this, we have established an independent quality assurance department that operates from the viewpoint of our customers and consumers, and we are continuously improving this system.
In addition to having our own quality assurance system, we are proactive in adopting outside public standards and have received a variety of certifications and assessments.